From living in the Midwest most of my life, there are definitely parts of the year (cough cough winter) when I feel like my skin is in need of some serious help. It starts to get super dry and almost has a gray tint to it. However, I don't have the time or the budget to go to the spa every month for an hour to get an intensive facial.
Well, that's why I love Philosophy. They have so many at home treatments that are reasonably priced and will last you months. Since I'm still young (and not too worried about anti-aging at this point) I opt for the Oxygen Peel. It's a treatment that brightens the skin and detoxifies...cleansing your pores.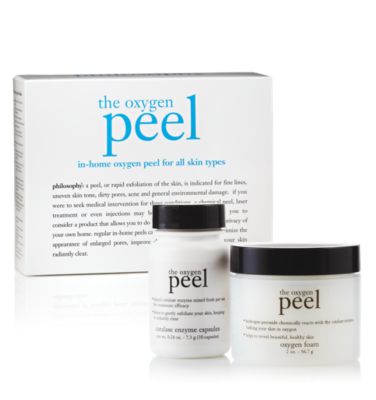 The Oxygen Peel is a 3 step process that takes approximately 15 minutes and should be done once a week. It includes a thin enzyme gel that you mix, the oxygen cream, and manual exfoliation. Honestly, the results will shock you. Your skin feels so smooth and the pores are visibly cleaner and smaller. Plus, at the price of $50 for approximately 10 treatments - you can't beat it. This treatment does take more work than some other at home facials, but the results are well worth it.
So if you want to brighten your skin in the comfort of your home - this treatment is for you. And don't be surprised when you look like Robin Williams in Mrs. Doubtfire. The stuff foams up!