As much as it pains me to tell my mother this (she is a stripe addict!)...stripes are making a huge appearance in the spring 2011 collections of high end fashion lines. The varieties are endless - horizontal, vertical, diagonal; tops, dresses, shoes - you name it, stripes are EVERYWHERE!
Now I had to admit that while heading to some of my favorite stores I have been drawn to a lot of these looks - whether it be a classic horizontal stripe sweater to a diagonal stripe wrap dress. Designers are pulling all of the stops this season to ensure that you leave buying at least one striped piece. And here area a few of my favorites.
I love DVF and Diane has definitely pulled some out some creative prints on her staple wrap dress. However, she has also applied stripes to some of her other signature styles and I just don't think you could go wrong with any of these looks.
Diane Brisa Wrap Dress, $325
Diane Row Stripe Dress, $285
Diane Arely Dress in Balloon Stripe, $345
There are also some amazing tops out there that are, wait for it...comfy and wearable for work! I love this one from Gap, and it's actually on sale right now! The back has buttons up it - which adds something a little extra to the traditional stripe scoopneck.
Striped Back Button Scoopneck T, $16.99
And of course other stores are providing some great alternatives like light sweaters and button ups!
White House|Black Market Striped Coverup, $88
J.Crew Cashmere Stripe V-Neck Cardigan, $168
And of course, there are shoes and handbags as well. Perhaps not as versatile, but trendy nonetheless.
Kate Spade Kennywood Small Sydney Tote, $225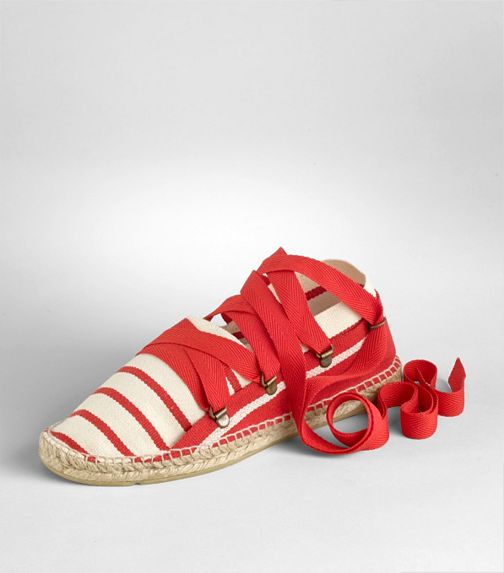 Tory Burch Striped Lace Up Espadrille, $135
So there you have it - stripes are in! Who would have thought? But designers have definitely come up with some sophisticated and innovative alternatives to the plain stripe T. I may not want my mom to know, but I'm kind of digging the look!