NEED ALERT!
: Seriously, has the shirt dress
really
ever gone out of style? Sure there have been those cases when the look gets a little too safari-esque (think Steve Irwin) but in many cases it's an effortlessly chic style that's timeless nature allows you to pull a dress from your closet year after year and still look like you just bought the latest look at Banana Republic.
Personally I like shirt dresses for several reasons. For one, I think they are casual and professional at the same time. A basic shirt dress can be paired with a blazer and heels for the work place, and then throw on a belt and some flip flops and your ready for the mall. I also like that it can be conservative and flirty, because with the button up effect, you can button all of the buttons or a few - depending on the event. It's just a look that says, "oh I just threw this on - don't I look great?"
This season, it's been hard to find a store not sporting the shirt dress in it's spring line. However, this is a look that is IMPORTANT to try on. The shirt dress is supposed to fit you like a glove, so if you are busting out of it, or it doesn't fit you right in the hips - it's going to be noticeable. I tend to have some trouble in my shoulders and bust, so I will buy a larger size and have it taken in at the hip. If you are a great at alterations or have a good seamstress, this is a fairly easy fix. Just remember, if you have a doubt do without - there are plenty of shirt dresses out there so don't settle for one that's not perfect.
I love this look from Tory Burch. I think they accessorized the look perfectly and made it look so chic. Tory is one of those lines that I am always going to for inspiration...but have a hard time splurging on. She's normally about 50% more than I want to spend - but I love her stuff so much. This Blythe dress is great...but it's $350...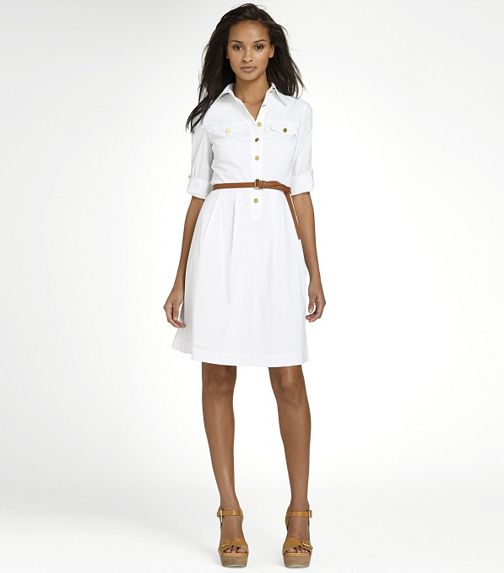 I'm also a big fan of this Ann Taylor Cotton Wrap Dress...wrap dresses are great for cinching in the waist for a slimming look. The dress is available in stone and black, and I'm definitely more partial to black. Something about stone screams safari to me...and being light complected...it tends to blend with my skin. If you don't like the color normally...it probably won't change.
This Ann Taylor look is only $138 - less than half the price of the Tory look! Plus, it's so classic in the black that you can do so much with it. Pair it with bold accessories and shoes for a fun look, or tone it down with pearls and black heels. The possibilities are endless!
And if you're still not sold on the idea of a shirt dress...go for a cheaper option like this one from Target. It's a great introduction to this amazing style! (And only $24.99)
So if you're looking for a new spring style - look no further! This is a great look for you girls who don't like to be too dressy...and for you girls who love to sport a girly look - ACCESSORIZE. This is a blank canvas that you can do so much with!