For those of you who have been conscious in the last few weeks, you've seen all of the damage that has occurred in Japan and other countries from the catastrophic earthquake that just took place. The reality, is that this type of disaster could just as easily happen to us. Therefore, many companies are putting together campaigns with proceeds going towards the relief of Japan and here are a few of my favorites that offer a great piece with a lot of meaning.
Tory Burch and the American Red Cross have paired up to great a T-shirt with 100% of the proceeds going to the Japan relief fund as long as you order prior to September 15, 2011. For $29, you get a great shirt that you can wear under a jacket or to work out in while also helping an amazing cause.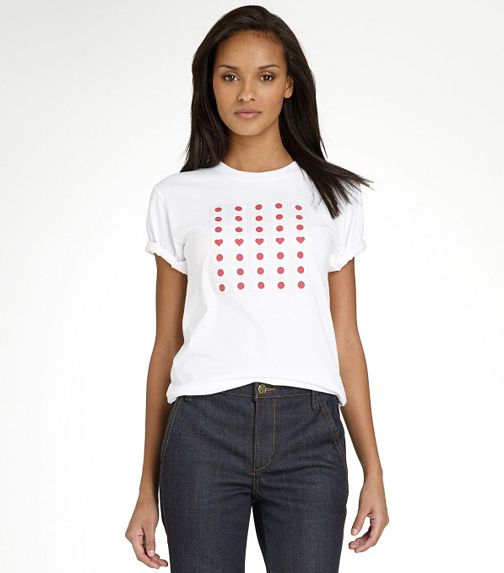 In addition, music artists have been jumping on board as well. It's no surprise that Lady Gaga is one of those celebrities. On her website she is selling a Japan relief bracelet for $5 with 100% of proceeds going directly to the relief efforts. The bracelet is adorned with Japanese characters reading, "We pray for Japan." In just 48 hours Gaga's monsters have donated over $250,000 towards this fund - definitely demonstrating her impact on pop culture.
Also on the t-shirt bandwagon is Blink-182 and Linkin Park. Both of their profits are going directly into relief for Japan with Blink 182 going through the Red Cross and Linkin Park opting for the Music for Relief foundation. Here are their designs as well:
Blink 182 T-shirt, $15
Linkin Park t-shirt - $25
As you can see, everyone is giving their best in providing goods, funds, and help for the people in Japan - and it's so wonderful to see.
American Idol
is donating a portion of the profits from I-tunes sales, Katy Perry is donating money from her tour glow stick sales, and designer
Alexis Bittar
is donating 100% of his jewelry sales made now until Friday, March 25th.
Of course, there is always the old fashioned way by just donating directly to the Red Cross or foundation of your choice. Any amount helps. After all, you never know when we will be in a similar situation. The relief support items make perfect conversation pieces - and a chance to recruit others to help the cause!
"Think of giving not as a duty but as a privilege."
- John D. Rockefeller