Okay, so I have turned into my mother. I don't even have children, but no matter where I am going I feel like I have to take items for every possible circumstance. What happens if my monthly visitor comes early, what happens if I have a headache, what happens if I get hungry - I think you get the gist. Right?
Well, I'm even worse when it comes to the beach or laying by the pool. I want to make as few trips as possible either back to my house or back to a condo - so I need size without looking dumpy. With technology these days, you have to have room for your smart phone, your ipod, your reading material, your beach towel, and sun protection - and those are just the necessities!
Fortunately, beach bags are making a come back, and there are some brands that might surprise you that have come out with affordable and fashionable pieces that will amp up your summer style and still be super functional.
One brand that really shocked me was Vera Bradley. Now I'm not going to sit here and diss the brand because I do like their luggage! However, I'm more of a classic, leather girl and some of the patterns are just a little loud for me. Some people can pull them off great...I'm not one of them! However, I am in love with their new Dockside canvas. This classic collection offers simple silhouettes in neutral or bright shades, depending on your personal taste. I am in love with this large tote - especially in the Sand shade. And for $68 it's an affordable price and a style you will get lots of use out of!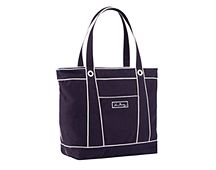 Large Tote, $68
Or...you could jump on the monogram bandwagon and go for a simple canvas bag and accentuate with your favorite color and initials. It is available in open top, zip top, and several sizes. Accessories are also available for the lady who craves compartmentalization.
Natural Open Canvas, $22.50-$35.50, Zip Canvas (not shown) $29.50-$42.50
And, there are also options for the woman who needs a bag that can do everything in one. I love this Lands End canvas look that goes from the office to the beach. The structure makes it instantly fashionable and the stripe gives it a little something extra compared to other totes. And for $34.50, it's in most everyone's price range!
Land's End Ragtop Stripe, $34.50
And for the girl who has everything (and a little more money to spend) here are a few higher end options that are just as versatile - with a little something extra up their sleeves!
Kate Spade Small Coal Chain Strap Bow Straw Tote, $345
Marc by Marc Jacobs Bianca Dreams of Monte Carlo Straw Tote
Tory Burch Small Crescent Straw Tote, $350
It's hard not to look effortlessly fashionable with these totes on your arm as you catch a few rays. So make your life easy and pick up a tote - you'll have more tricks in your bag and look fabulous at the same time!