Jennifer Lawrence is certainly living the high life right now - she has hit mega stardom after being cast as Katniss Everdeen in the Hunger Games series, she is on the cover of all of the hottest magazines, and oh yeah...she's drop dead gorgeous! All of the hottest designers are throwing their latest and greatest creations at this girl because she is walking the red carpets EVERYWHERE!
But before she was walking the streets of LA in a Balenciaga jacket, Miss Lawrence was growing up in Louisville, Kentucky with fairly humble beginnings. However, with that face, that hair, and those piercing green eyes I think it's safe to say that she's right where she belongs. Check out some of her latest looks!
at the LA premiere of the Hunger Games
at the 2012 Peoples Choice Awards
in Ralph Lauren @ the Hunger Games premiere in London
a look from her Glamour photoshoot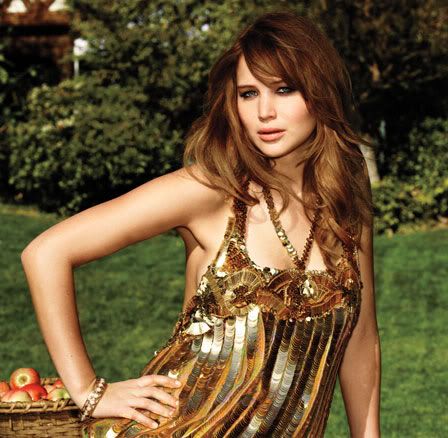 another look from her Glamour photoshoot
This "girl on fire" has really made her mark. Seriously, can she look bad? Let's hope not...we wouldn't want to have to revoke her "fashionista" status!